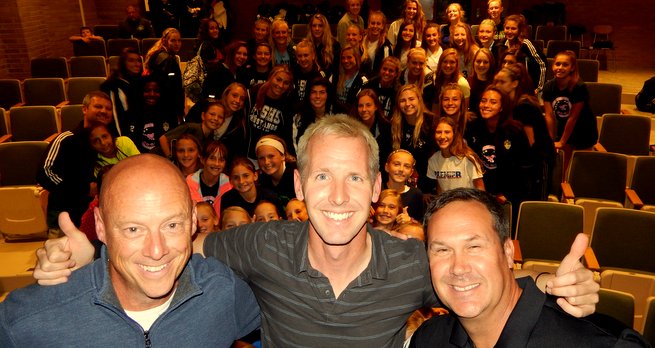 October 20th, 2016 - Lady Mustang Soccer Academy
I had an amazing time speaking to the Lady Mustang Soccer Academy today. What a great group! Many thanks to coach Felton and coach Church for setting it up. Wishing them all the best this season. - Doug
October 8th, 2016 - Rotary Club Speaking and More.
I had a wonderful time speaking to the Rotary Club. It was an honor to speak to so many of the community's business and professional men and women. Summer 2016 was amazing! So many great events and travel. Spoke to lots of Boy's & Girls Clubs past month along with a book signing and some children's hospital visits. I was stoked to go the premiere of Ron Howard's Beatles Documentary Eight Days a Week. I'm still skating strong all the time. Lots ahead, stay tuned! - Doug
July 26th, 2016 - Akron Children's Hospital Visit
Today I went to Akron Children's Hospital to visit a very special young man named Zeke. Less than a week ago he was in an awful skateboard accident. Today I was able to hopefully bring some encouragement and smiles into his day. His mother and aunt made the surprise visit happen. I'm always grateful to do visits like this. I assured Zeke and his family that I will always be there for them if they need me. I assured him that adversity and these hard times will only make him stronger and to not let this accident define who he is and will become. My dad was a doctor, my mom was a nurse, my brother is a doctor. I was the black sheep till I figured out being a pro skater gave me a microphone to reach others. I wasn't just speaking at schools, libraries, and detention centers. I was entering hospitals because of my skateboard. So now after years of doing these hospital visits my family apple hasn't fallen so far from the tree. Getting a smile and thumbs up from Zeke made the trip today worth while.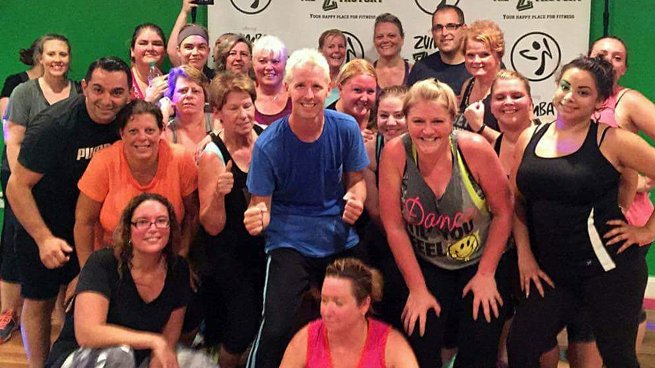 July 21st, 2016 - Zumba with ESPN Paula
Another packed day. Tonight I made an appearance at the Z Factory Zumba dance studio with Paula Jacobs instructor for ESPN. Paula and her crew took me out to dinner after Zumba in downtown Southington. Was the best way to end today, many thanks. I'm back in my hotel for a good nights rest. Many thanks to Janet from Play it Again Sports for making this weeks adventure happen!
July 20th, 2016 - Waterbury Boys & Girls Club, Children's Hospital Visit, In-Store Signing
Today started with speaking at the Waterbury's Boys & Girls Club. What a great group! I had spoke here a few times before and each time the groups get bigger. After my speech and autographs it was straight to St. Mary's Children's Hospital to bring some smiles to some very special kids. Janet from Play it Again Sports and I share a common passion of making a difference in the life of a child. One young man in particular we saw named David plays wheelchair basketball and wants to be a motivational speaker. His family was so appreciative of our visit. Many thanks to everyone at CCMC for letting us come and bring some smiles to those in need. After the events today it was perfect to finish the evening off at Southington's Play it Again Sports in-store signing. Many thanks to everyone that traveled near and far to meet me. Made a lot of new friends and fans. After the signing we all headed to Dominoes in Southington. Janet had all her employees join us for a fun celebratory VIP dinner. The managers had a table just for us including a nice welcome message for us on their wall. I'm now back at the hotel for a nice workout then off to bed.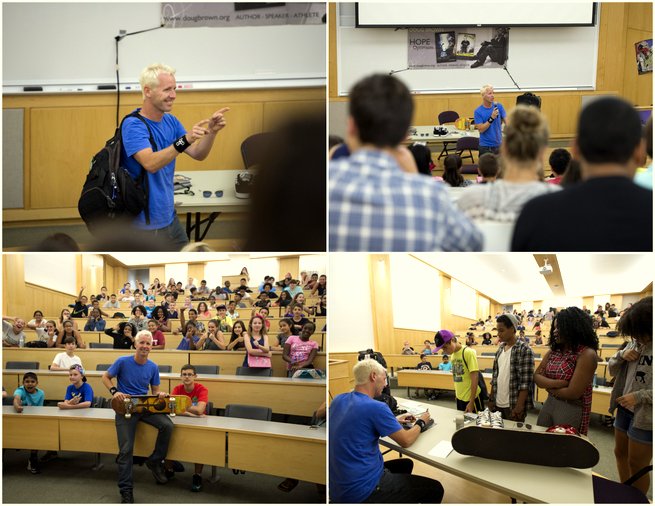 July 19th, 2016 - Taft Summer Enrichment Academy
Last night I flew from Cleveland airport to Hartford Connecticut to meet Janet from Play it Again Sports for some great events. Checked into my hotel suite and it was lights out. After waking up and free breakfast I was picked up at the hotel from the PIAS crew and headed to speak to the students of Taft boarding school summer program in Watertown Connecticut. What a great group! The kids were so receptive and tuned into my program. This place has a remarkable campus. They treated myself and the PIAS crew to a nice lunch. Many thanks to Janet and everyone at Taft for having me come speak. Back to the hotel then dinner with the crew. Tomorrow I'll be speaking to a Boys & Girls Club then visiting the Connecticut Children's hospital. Till then!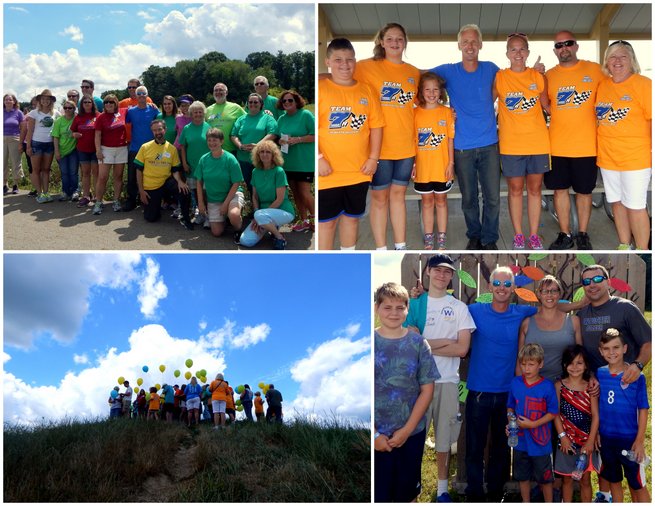 July 16th, 2016 - Day of Hope Walk 2016
I had an amazing day speaking at the Day of Hope Walk 2016! So many amazing people, teams, friends, fans, and positive energy. Many thanks to Hope For This Step for putting this all together! Stepping together through suicide, & overdose awareness, and prevention. Ending the event with everyone lifting up balloons at the top of the hill, amazing. Each balloon had something written on it to honor those who are no longer with us. I was very honored to be able to come speak today. Many thanks.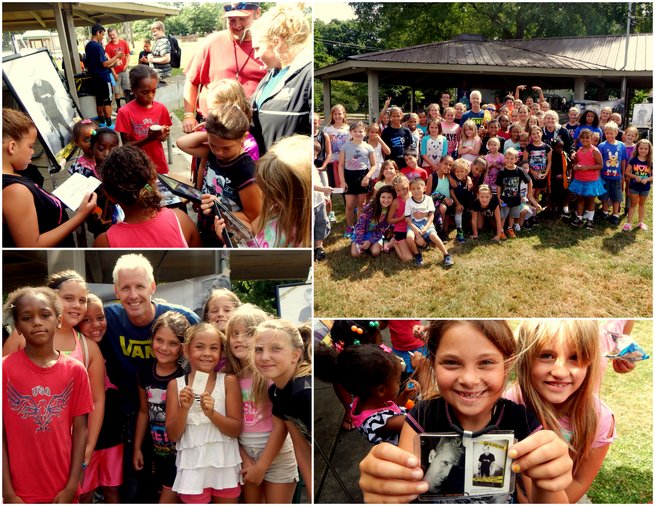 July 14th, 2016 - Knights Field YMCA Summer Camp
Had a great time doing my Dream Big presentation to the YMCA campers today! What a great receptive group! Summer is in full swing! So many events ahead, stay tuned! Doug

July 13th, 2016 - The Spot YMCA Summer Camp
Lots of smiling faces at today's speaking engagement at The Spot YMCA summer camp. I had my 43rd birthday a few days ago. Hard to believe. I feel great! This summer marks my 15th year as a professional skateboarder. I never thought I would be where I am today. Never let anyone take away that dream from you. Chase your dream for the right reasons. Believe me, the true paycheck in life has nothing to do with dollars, fame, or status. In life pay it forward, give back, reach out, care, and make a difference.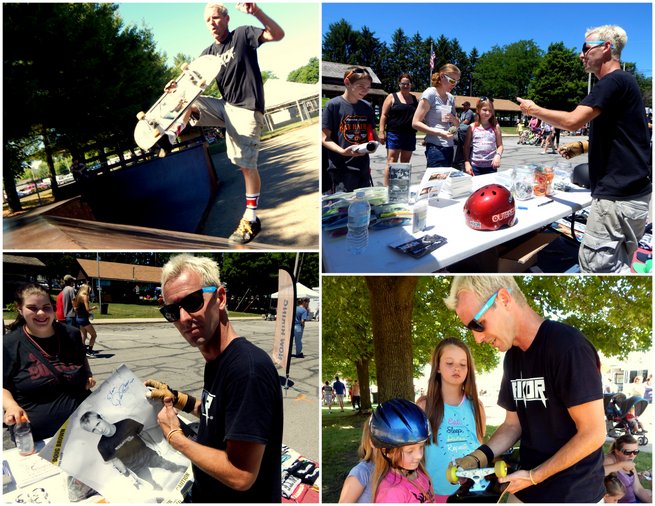 June 28th, 2016 - Cardington Street Fair
Had such a great time at the Cardington Street Fair last weekend. Thanks to all the people and skaters that came to join in the fun. Cardington is a town that is close to Mt. Gilead where my parents fell in love and grew up. It's always magical to go back and revisit. I've been invited back to Cardington for over ten years now to this event. The people in the community are awesome. To have the mayor of Mt.Gilead and Cardington and the chief of police come up to me and shake my hand and thank me for coming to town and working with all the kids, awesome. There is something special in the air there. Till next time! Doug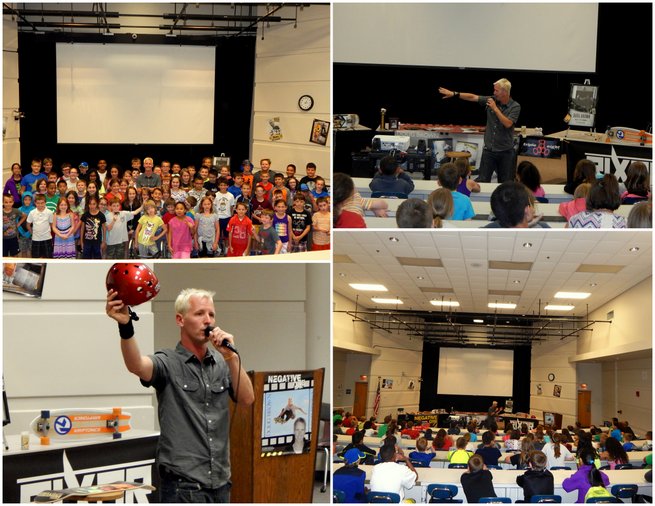 June 9th, 2016 - Boys and Girls Club
What a fantastic day speaking to the Boys and Girls Club! Summer is off to a great start with loads of speaking events ahead. Of all the organizations I work with the Boys and Girls Club of America has given me the most opportunities to speak and reach out to the youth across the nation. Feeling grateful.
June 8th, 2016 - Dream Big Library Event
What a great day! Many thanks to all those who came to my book signing event at the Cardington Library. There were so many electric smiles and positive vibes. There was a sentimental spark in the air with this little town being steps away from Mt. Gilead where my parents fell in love and where all my family roots are based. My great aunt Jeanne made a surprise appearance and it meant a lot to me. After the event the mayor requested to visit with me about updates to their local skatepark then I finished off the day skating with the local skaters. Tomorrow I'm heading back to my hometown to speak to the Boys and Girls Club. No need to unpack the gear! Till next time!
May 23rd, 2016 - Riverview Elementary
I had a great afternoon speaking to the students of Riverview Elementary in Munroe Falls today. What a great group! Many thanks to the Riverview PTA for making it happen. Lots of smiles and inspired kiddos! So much happening this summer with the release of my 5th book and events. Stay tuned! - Doug