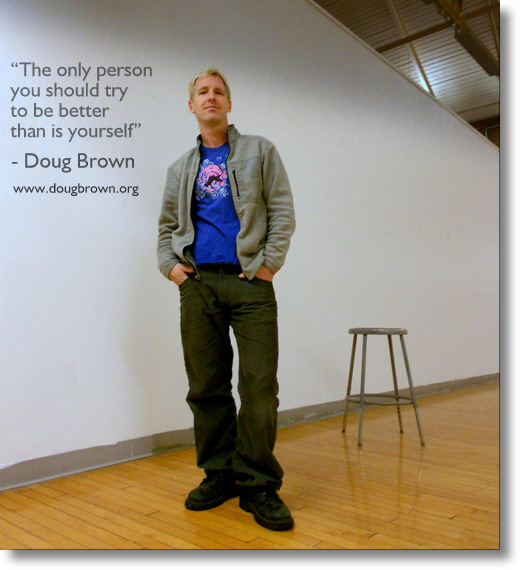 Read Doug Brown's books Looking Glass Self and Beyond the Board. Available at all major books stores and online at:
www.beyondtheboard.net
"Looking Glass Self is laced with childhood memories, stories of those he encountered during his travels, love, compassion, role models, family, hope and optimism. His words dive deep into the heart, leaving it soaked with a new sense of positivity. Stirring that level of motivation is not easy for anyone, but Brown does it with elegance and honor."
- Angela Workman - Wooster Weekly News
"Let me start by saying I think this is an excellent book. I found it to be very genuine and thoughtful. While reading Doug's story, you find yourself thinking about your own life. I found myself looking back on life- the ups and the downs- and while his experiences were much different than mine, they were still easy to relate to. And although some of his experiences were very extreme and rare, they provoked a lot of thought. He has been down a rough road and came through with an incredible amount of strength and wisdom. As a prevention professional, I found that Doug shows tremendous resiliency and is a great role model for young people. I highly recommend this book for anyone of any age. It's an easy read that will make you stop and think about your life, realize what you have to be thankful for, and know that despite hard times, you can overcome your obstacles."
- Alison Lindquist
Health Education Specialist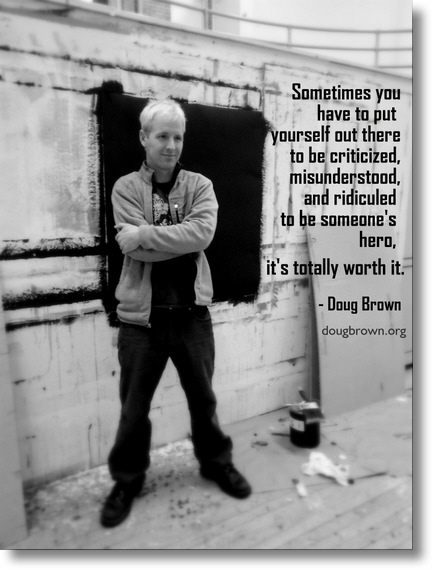 2013 SPONSORS:
Negative One Griptape, Outbreak Boards, Sneaux Shoes,
SMB Bearings, Triple 8 Helmets, Softrucks, Athletes for Hope
HIGHLIGHTS FROM PAST YEARS:
August 2003: 2nd place X-treme Fest
September 2003: 1st place Summer Invasion Series
September 2003: TV appearance on Much Music TV
October 2003: Gravity Games
May 2004 Appearances on Fuel TV
June 2004 Release Pro Model deck -
Doug Brown Bunny in shops across the globe.
August 2004 Fuel Channel Get Hook-T Up Tour
September 2004 Gravity Games demo skater
October 2004 Las Vegas Demos
ASR San Diego Demos Jan.2005
Orlando Vans Demo Feb. 2005
Ollie's Demo, Kentucky with Mike V. May 2005
Schottenstein Arena, 20,000 people Aug 2005
Pro Action Sports Dew Tour Summer 2007
Muskoka Woods Skate Camp Demos July 2008
Book Doug Brown - Beyond the Board published 2009
Beyond the Board Exhibit touring libraries 2011-2012
Book Looking Glass Self published 2012
TV APPEARANCES:
54321, Much Music TV, Out & About Sports, ESPN,
Fuel TV, Plantet X, Fox Sports, XCorps TV,
NBC Good Co.Today Show, Sports Talk

MOST MEMORABLE SKATE MOMENTS:
Winning my first skateboarding competition in 1987
Skating the 2002 - 2004 Summer Gravity Games
Eastern Supply Open House Demo NC 2004
Progressive Skatepark Appearance Atlanta 2004
Doing MC at Fuel Channel's Get Hook-T Up Tour 04
Texas Fort Bliss Military Base Demos March 2005
Canada Newfoundland tour July 2006
Skate Straight Hometown visit Jan. 2008
TV appearance on Good Co. Today Show on NBC May 2010
Dancing on stage with Prince at the LA Forum May 2011
Vans Warped Tour Summer 2011

NOTABLE CAUSES:
Athletes For Hope, SADD,
American Red Cross, Skate Straight,
St.Baldricks Foundation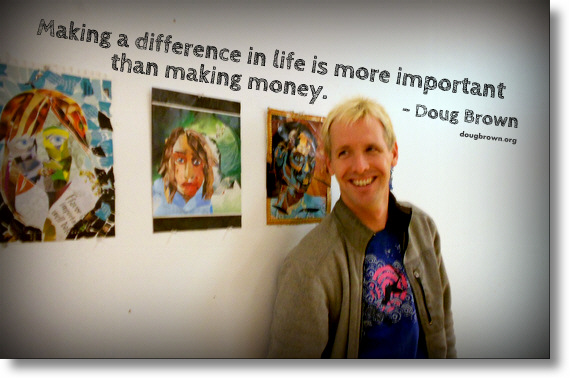 "Places and people are what keep me going.
Influencing people in a positive manner means
more to me than any sponsorship, trick, or
trophy. It's connecting with the crowd that has
made this journey all worth while."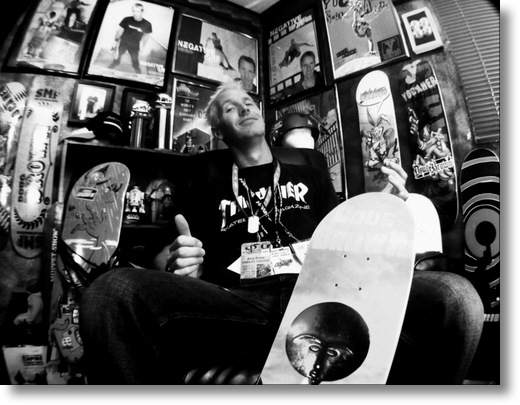 When chasing a dream remember, no one is entitled to just have success fall in their lap. Things can take years of sacrifice, discipline, tenacity and extreme drive. I've been a professional athlete for over ten years now. I remember standing on the top of a ramp competing in the pro event at the AST Dew Tour in 2007. Here I was along side some of the best skateboarders in the world. I was on national TV, I had paying sponsors, tour dates, I had been in the magazines. Rewind to the beginning of 2002, I was essentially a nobody. After being discovered at the Gravity Games in 2002 I got my first big sponsor and began making connections. I remember my first trip to San Diego I booked a flight with my own cash to attend an industry trade show where I got to skate and meet team mangers and industry people. I was making my own waves and hookups, on my own. I asked nothing from anyone. I took risks, I made phone calls, I hustled, I bled. I didn't get paid a dime in the beginning. I went through the rumor mill subjecting myself to criticism and so forth. I was going to move forward but on my own terms never sacrificing who I was or what I represented. I did loads and loads of competitions and industry events. I put myself out there. Fast forward to 2013, my credits now speak for themselves. My point? When chasing a dream remember no one owes you anything. If you are chasing fame and money as your destination you are setting yourself up for disappointment. I believed in myself. I knew what I was doing ultimately in the end would reach and inspire people. Money was never ever the objective. Chase the dream, but do it for the right reasons. In the end all we have is each other. - Doug
Words and quotes by Doug Brown
"I found my voice through being in theater, my guitar, piano, writing, and speaking but my skateboard took me there."

"Sometimes you have to put yourself out there to be criticized, misunderstood, and ridiculed to be someone's hero, it's totally worth it."

"You can find a family in the people you reach, your friendships, and the people you surround yourself with."

"The only person you should try to be better than is yourself"
"I grew up watching Mr.Rogers. He would always say, "I like you just the way you are." Kids don't hear that today in our society. They are raised with fast gadgets and touch screens. Slow down, talk with one another, learn from one another."

"There is nothing worse than a man who verbally or physically abuses a woman. I think it's disgusting and repulsive. Women are incredibly beautiful inside and out. They belong on that pedestal and should be treated with respect, dignity, and honor."

"Everyday should be Sweetest Day. Get the door for someone, pat a friend on the back. Tell the people you care about that they mean something to you. The little things in life carry the most weight, they do matter and they add up."
"Art is everything. Life is art. Movement is art, an expression, noises, and views. Art should not be just viewed as just a painting on a wall. Life is art and art is life."

"A hater will always downplay your success only to feed their own insecurity and jealousy."

"There is magic in motion. There is energy in change. There is something in all of us to make a difference in anyway, everyday."

"Your eyes should be open to dream becoming reality"

"If one hates everyone this includes themselves therein lies the problem"

"Education, intelligence and compassion illuminates ignorance"

"Love is the currency to embrace whereas money and fame are a tangible false importance"

"To hate ones differences is rooted by insecurity and selfishness. To be accepting of it is rooted by love and selflessness."

"An empathetic open mind is a sign of maturity and acceptance. To disagree with skin color or sexual orientation is a sign of hate and bigotry"

"A mentor's voice can be reborn and reused within the admirer at hand"
"We all have some screws loose, common sense and intelligence can diminish that"

"One that judges those in the spotlight often hides behind the curtain of no courage"

"We should always learn from our experiences, the good and the bad. Its how we grow as people"


- Doug Brown

All postings copyright 2002-2013 Doug Brown


Doug Brown's Official Skateboarding Site:
www.dougbrownskate.com
Includes vids, tour dates,
photos, and more.