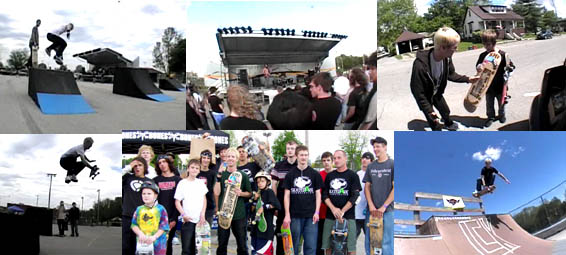 May 19th, 2008 In Wilmington with 3rd Lair Team
Its a Sunday night and I'm torn and fried from the road. Early Friday I headed out to Wilmington on a 3 hour journey for a demo joined with the 3rd Lair team from Minnesota. They hooked us up and put us in a nice nice hotel, flat screens and all. With a late arrival I hit up the tred mill and crashed to bed. The weekend was calling for rain but woke up to sunny skies and some hefty winds. the 3rd Lair crew didn't get in till 1am the night before and had to be up at 9am to set the course up for the demo. Things started late with the bands and the crowds but the demo started with a hungry crowd. These kids were stoked and the vibe was a good one for sure. The rough gravel was an obstacle but the set up had wedge ramps, quarter pipes, rails, and the resurrected picnic table from the 3rd Lair park in MN. Had lots of good skatin, over 8 hours non-stop to be exact, no joke. Not to mention lots of good entertainment from kickin bands, helicopter rides, and freak show wrestling to top it all off. The crew raised a lot of money for their skatepark fund and the day saw a lot of smiles. Somehow I survived the hours with a few good slams and I was all in one piece. After talking with a group of locals it was on to Pizza Hut to end the day. Was great to have an additional night in the hotel, normally when a demo is set up the sponsors only give you one night before the event so we took this additional night for sure. I was so damn sore from skatin the day before and all last week but we made our way out on the road with gas peaking 3.98 with three hours to go north. On the way out of this town which was in the middle of nowhere I might add there was a bridge out which caused some problems but we got set on the right path and it was onward. Ended up eating at Al's which was in a small town that I did a demo at a couple years ago, figured I would check out the park to see if it was still alive, there was a little dude skating the pipe as I showed up. He asked me if my name was Doug and his face lite up when I told him yeah, he said he skated the park everyday and his board was holding him back, without hesitation I brought out a brand new deck and gave it to him free. Christmas came early for this dude, as we skated the park a bit within 10 minutes kids were on their cell phones and it basically turned into a demo. The park filled up with kids and we had a good lil' sesh. I was fried and tired from the weekend but stepped up to the plate to give the locals something to remember. After signing some posters and some hand shakes I headed toward my grandparents hometown since it was on the way. They've been in Florida for the winter and my grandma has been in the hospital and not doing well at all, So I randomly showed up on their doorstep to see if they were home and they were. They were in great spirits and my grandma was doing much better. They are so sharp for being in their late 80s. They were reminiscing on when they took me to see my first pro event and this was way back in 1988. Was so good to see them and my aunt and uncle from Kansas were there also. Something about seeing my grandparents and visiting the hometown of my parents that just gives me and overwhelming feeling of life and purpose. I use to spend my summers with my grandparents and would skate this small town when I was like 12-13. Its always cool to go back there and remember where I came from and who I came from. My parents were high school sweethearts and grew up in this town. So the events continue and I'm back on the road, its been demos every week for 3 weeks in a row with lots more to come. I'm stoked to get some down time this week and skate a handful of local parks. I've been filming a lot for the next vid and continue to put my energies into the Skate Straight benefits and helping out my sponsors. Thanks for everyone involved in this weekends demo, 3rd Lair guys, Jen, Christina, and all the skaters, skate on, Doug

May 2-3rd, 2008 In Connecticut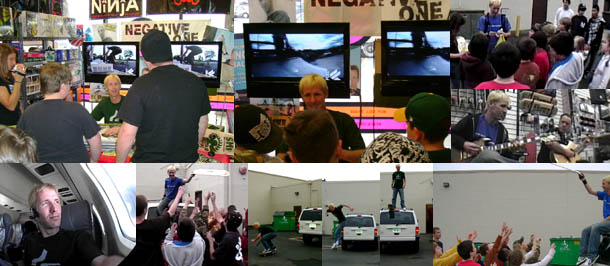 Here I am miles above the ground in a Continental express jet headed for Hartford Connecticut. Events are picking up and summer is right in front of us. Things are moving forward and I'm proud to announce I'm a member of Athletes for Hope which assists in my Skate Straight Program. This weekend I have a demo in Southington Connecticut for Play it Again Sports. I'm now booked into my hotel. Janet and the crew from the shop picked me up from the airport in their PIAS van and sped me here. The room is amazing and was greeted with a gift bag from the crew upon check-in. (Sat. May 3rd.) Woke up today, slept so so. Was disappointed to see rain outside and received a call letting me know the 2pm demo was canceled but we were still on for the in-store event at 4pm. With plenty of time to kill I moved the table in the room, got the ipod, and had a flatland session till it was time to go, hoping the people down below don't mind. After some lunch Rob shuttled me off to the store to an awaiting crowd. My buddy John from DBS clothing had his plasma screen tv behind me playing promo vids of me. The crowd had a great energy. I'm always flattered that people took the time to come out and hang with me. Was good talking to the locals and the parents. The skate community here is very tight knit and has a positive energy. After some time the guys were hungry to skate so we all rushed out the back entrance to a parking lot. First order of business was jumping on top of Robs jeep for an acid drop. After some bails the crowd got behind me and I landed on my third attempt. After some hungry product tosses the rest of the afternoon was filled with flatland skating and chatting with the skaters and the locals. After the event John, one of the shop managers had seen one of my videos and knew I played guitar. With this, he set up a PA system and to my surprise a jam session was in order. After some conversation and strumming the owners took the crew out to a nice dinner at Ruby Tuesdays. Since I was in Southington it was imperative that I visit the ESPN headquarters, so after food we went there. Special thanks to everyone at PIAS, Janet, John, Jenn, Rob, and for John and Tony from DBS for helping us out. So many events coming up and I'm filming more than ever for the next dvd. Till next time, Doug

Sportstalk Network 3/22/08 5-8pm EST - New shoe sponsor Sneaux Shoes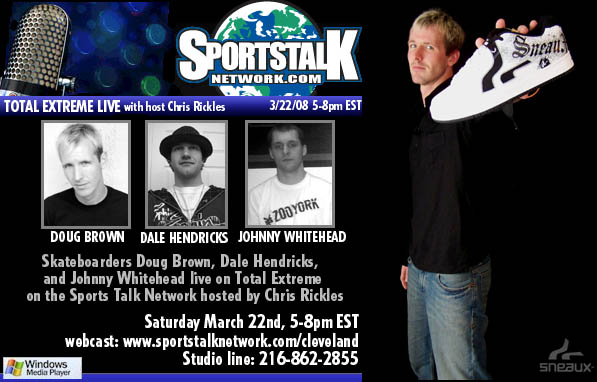 February 7th, 2008 Hometown Brown



Skate Straight is in full swing and last Tuesday was a very special stop for me, it was my hometown that I grew up in. This was a higher production than most of my stops. The city just got a new library so we had the luxury of a huge screen and top notch gear. Promo videos played as the audience filled the conference room. I had no idea what the attendance would be. I was kept away till I was introduced and came in through a side door to a packed room with applause. It was surreal and was awesome to see so many familiar faces. Normally when I do these events I don't know anyone in the crowd so this was personal and I put my heart into the program more than ever. I talked for about an hour and invited my buds Jesse Deal and Joe Vykopal to also speak. We reached a lot of people in the course of the evening and I felt I gave back as much as I could to the community I grew up in. After some Q and A I signed posters for everyone and got the chance to reconnect with loads of people. People I had graduated high school with brought their kids. I couldn't believe how many people drove hours to get there. I felt blessed and it reminded me of the importance of my position, especially with the young crowd. I'm still skating a lot and visiting skateparks along the way of each stop. I have some exciting new sponsors to announce very soon. Spring demos are already being booked so I have a handful of plane rides ahead of me and I'm extremely stoked for whats to come this spring and summer. For those who have come out to my Skate Straight program I can't thank you enough for being part of all this. Doing this means more to me than the contests and industry events. Special thanks to Christina, Linda Uhler, Jesse and Joe, The Daily Record, and all the skaters for their support. Till we meet again, Doug Click here to view the Daily Record article.

January 11, 2008 Skate Straight Hits the Road



I'm still skatin but if you haven't seen me round' I've been busy touring schools, libraries, detention centers, and everything in between. I'm performing a program where I talk about my life and the effects drugs and alcohol have on our youth culture. I'm doing a homecoming of sorts and will be visiting the town I grew up in to perform my Skate Straight Program. If you are in Ohio join me Tuesday January 29th from 7-8pm at the Wayne County Public Library. Click Here for more info. It's hard to believe we are now in 2008. It was a great year with so many highlights. The Dew Tour was an amazing experience and I'll be back on board for 08 as well. Lots of tour dates are booked for this year so check tour dates for more info. FUEL TV has been playing the Olie Pop vid so you can see me in that if you haven't seen it. I'm gathering lots of footage and I'm filming my new dvd out this spring. A handful of new vids have been added to the video section. Hope everyone is doing well and thanks for the support.

December 18th, 2007 American Red Cross Festival of Trees



On November 27th I was invited to join the American Red Cross Festival of Trees.The auction was a fun an successful evening raising more than $40.000.00 for a local county chapter of the Red Cross. This money is designated to Disaster Services, which helps local victims of disaster or crisis. My donation was my signed shoes and helmet that I wore in the 2007 AST Dew Tour which went for $275.00 It was an honor to contribute to this auction. Looking for a shoe sponsor is not my top priority compared to getting involved in organizations that are meaningful and bring benefit and a good cause. During this holiday season don't forget the less fortunate. Support organizations like DARE America, Make a Wish Foundation, American Red Cross, and Athletes for Hope. I'm most proud of my involvement in causes like these. I've done demos and toured skateparks across the globe but I always remember the importance of the appearances I do at schools, libraries, detention centers, churches and even some military bases. The time you spend off your board is just as important as the time you spend on it. Get involved on any level, it's well worth it.

Saturday, November 10, 2007 A Positive Impact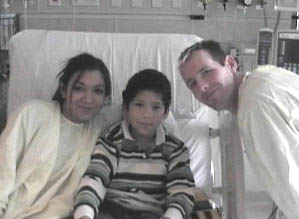 Today was a special day on many levels. A few days back I got an email from a friend of mine from school. Her friend's 12 year old nephew Nino who was badly burnt and was in a children's hospital. Nino lost his younger brother in the fire and the family lost everything they had. Apparently he was a fan and had seen one of my dvds through a friend. After some phone calls and emails the family had arranged to pick me up and drove me an hour to the hospital to surprise him. He had been in the hospital for two weeks and I was more than happy to bring a smile to his day. I gave him a load of goodies including t-shirts, stickers, dvds, skate mags and one of my old helmets from one of my first big competitions. The significance of the helmet was that the last time i wore it I ended up in the hospital after I fell 12 feet onto the ground splitting my chin completely open. I told Nino how brave and strong he was after being in the hospital for 2 weeks and I was only in for one day. I assured him that everything he is going through will make him stronger and to keep his chin up, good things will come his way. Later we talked the nurses into letting us all go to the cafeteria for some food. They loaded him into a wheel chair and off we were. Spirits were high and it was good to see him and his family enjoying themselves. Through my hardships in my life I know how people can bring support and I know it makes a world of difference. As we all left, Nino changed into his t-shirt and hat that I gave him. He even had Vans so he looked like he was ready to jump out of that chair and go skate. I assured him that one day I will see him again and we'll skate a skatepark sometime. Helping Nino today was more important than any trick I could ever do on a skateboard. Skating demos and doing personal appearances are an important part of my job however its moments like this that truly matter. I'm blessed to be in a position to give back and to hopefully make a positive impact on someones life. These are unseen tricks. Who I'm sponsored by doesn't matter. What skate tricks I do don't matter. My experiences do matter and from those experiences I've learned a great deal. That's what I have to offer. With my involvement with Make A Wish Foundation I do get to meet very special people who are going through traumatic events. But it doesn't take being a professional skateboarder or a doctor to help someone. We all have something to offer or bring to the table. Words of encouragement are important. You can make a difference with people and the little things do matter. Today reminded me of that.

Wednesday, October 24, 2007 I'm still strummin.. Best of CD
For those who know me well I have had a musical life before skating. This new 19 song compilation is a mix of funk, pop, electronic, and everything in between. It will be available on Tuesday October 30th in various music outlets throughout the US and Canada. The cd can be purchased now in the shop section of www.dougbrownskate.com. It's been a fun project getting back into these tunes and I've included 3 live bonus tracks. I won't be showing up at skate demos and events with my music gear don't worry! I've always kept the two aspects of my personal and professional life separate. Sadly my music has taken a back seat to my skateboarding as the skate biz has taken my time and energy the past few years. I've never stopped writing and my guitars stay in tuned. So much has been going on, the Dew Tour ended last weekend in Orlando. By far the Dew Tour was the highlight of the summer. I've been filming all my travels and adventures for the next dvd due out this spring. I will be touring different Play It Again Sports stores throughout the US with SMF Skateboards. Thanks for all the support and emails. See you round' Doug Brown

Saturday, September 29, 2007 Out on the road and lovin it!


Its 3am and I'm on a laptop at the Days Inn, can't sleep. Last week was a roller coaster. We went to different skateparks in Maryland, Pennsylvania, the to West Virginia and now back for the demo tomorrow. Today began with a wake-up call, loaded up the van then met my assistant Brandon. We loaded up his pimped out ride (22inch rims, black shiny Honda Element) and headed out to the city of Hillsboro. Got stuck in a traffic jam for over and hour which landed us in the town around 10pm. We were greeted by the event coordinator Ron Hennison at the Alley21 restaurant. A neat place, a bar and grill with cloth napkins and a hill billy dance floor complete with line dancers from the 80s. To my surprise I was on the cover of two different newspapers in the town about my demo. So the management was expecting us and dinner was on them, thanks Sam. With some extra crew people we scored some fun footage of the day and tomorrow should be a trip. After the demo we are headed to a few other skateparks. Feels damn good to be out on the road. (Saturday September 29th) Nobody from our crew seem to sleep to well, we ended up watching a Reno 911 marathon to get through the night. Got a few hours asleep, wake up call, scored the free breakfast and we were all ready to roll. The weather was to die for with sunshine and a fall breeze. We found the park without trouble and unloaded the beast that was our van. This little park was jammed with kids and it looked like fish rapidly swimming round the park. Followed by Brandon, my camera dude we entered the park to some smiles and high fives. Ron and his crew went out of their way and had posters of me surrounding the park and they were very welcoming in lending us a hand to setup. DARE was also there to lend there time to the days festivities. With a warm intro Ron sent me up on the platform and handed me the mic for my speech. I'm more comfortable skating but I hate to just come into a town with a planned demo and not talk to the kids and let them in on who I am and what I stand for. Music cranked then it was onto the half pipe to shred with the locals. This was like a vert metal mini ramp and it wasn't just a ramp to jump on and bust tricks out. Took me a few rounds to feel the ramp and position myself to do some moves. Locals always have the advantage cause they know every nick scratch dent ding and feel to the park.. I know how that is when I'm at my hometown park. The day was filled with skating, music, free food, and signing odd things like a finger cast, cellphone and a gameboy. By 2pm we head on out and I was content with the days events. The coolest thing happened when this little dude was talking to me seconds before I took off. He was bout 12 years old and was stoked out of his mind to meet me.. He had done his homework on who I was and was just full of energy and questions. Throughout the day he kept cheering me on. At the end we did a drawing for 2 decks and he ended up winning one. Anyways, he told me he was crying cause he was so happy.. saying this with a calm sincere voice. Just reminds me of how impressionable these little dudes are and as skateboarders we all have a job to give back and to inspire. Getting back on the road a couple hours north we took a stop to the small town of Cardington. This was a place I had visited for 3 summers in a row to host a contest. They didn't have the event this year so when I pulled in the kids were very jazzed to see me and I was happy to have some people to skate with. It turned into a mini demo and we ended up filming some and having a blast. Sun was coming down and mosquitoes were enjoying my wet shirt so it was back on the road. Only 15 minutes down the road was my grandparents hometown.. these are the grandparents in my Solo dvd. We made a surprise visit and it was great to see them. They are both nearing 90 and are still very active. My grandmas memory is so sharp its stunning. Today couldn't of gone better, to reach so many people in just a day was great and everyone left smiling. That means a lot to me. Some updates to report.. I can be seen in the Concrete Wave Evolution Volume 3 dvd. I'll be on Sports Talk Network again in October, check the site for details. And I will be heading to the Dew Tour's last stop in Orlando in mid October. Special thanks to Ryan, Christina, and Ron and his wife for everything this weekend. Thanks everyone in Hillsboro for having me out. See you all soon! Doug

Sunday, August 19, 2007 Lexington stop, on the road again


Weekend in Lexington. Its been pretty crazy lately with these gigs I've been doing. Since the Dew Tour its been a series of demos. Friday afternoon I set out to Lexington. This was the first trip I've taken my van on since it broke down in Cincinnati. It has survived a tornado and 4 break downs. For those who have seen my new dvd you saw my van broke down. Normally I fly everywhere if its over 6 hours away. With 275,000 miles set on it I was off and running. The city put me up in a real nice hotel and I was takin care of. It looked ghetto from the outside at first and I was weary entering this place. Entering the lobby I was corrected as it was first class all the way. Scored some down time in the heated pool and hot tub, checked out the local mall, skated the parking lot then off to bed. This was a relaxed demo and didn't start till 1pm. I never quite understood any skate event that started before 10am? Those are the worst and I've done some of those in my time. So with a relax vibe and perfect spring like weather I was off to the demo. This was all being held during a festival for the city so I was stuck in a parade which caused an hour delay as I couldn't get my van through. The late arrival ended up working out... the dj was blasting good tunes and my tent was ready for me. It was a wide variety of ages. The little guys took to my van right away as I jumped out. They were all very enthusiastic with comments and questions. I got on the mic and the party started. It was kinda a small park but the locals were attacking these ramps like they were 20 feet tall. It was 6 hours of non-stop skating. In the middle of the day I through a best trick contest to keep things entertaining. My dare devil moment was when I climbed on the fence of the quarter pipe to do my cave dive into the ramp. The park froze and the crowd took notice. I was screwed, I had to pull this whether or not I wanted to. As I climbed up the kid beside me said "thats nuts why are you doing that" and I replied "it's my job" I wasn't gonna leave without trying something memorable or something no one there had done. On the first try I placed my tail on the fence.. grabbed out with a finger flip and rolled onto the tranny with a smooth finish. I was happy to land but I think it would've been more dramatic had I slammed 10 times to build it up. But I was just happy I lived and took the trick. The kids ate up the product tosses, 3 in all. After the long day I jetted out to another hotel. I was near my grandparents hometown so I made a visit. It was great to see them. They are both in their late 80s and are sharp as can be. They've been married over 50 years and everyone falls in love with them. If you've seen my Solo dvd these are the grand parents that were in the vid. I'm off to bed, my bed finally. I love the road but its damn good to be home. Lots of videos added to my website and Youtube so check em out if you get a chance. Special thanks to Tina from CD Jungle and all the skaters for making the event happen. Till next time as always, Doug

Wednesday, July 18, 2007 Dew Tour



July 18-21st 2007
What a day, its day one of the Dew Tour Right Guard Open. Its bout' 1am and I'm fried. I drank more Mt. Dew today than I think I've drank in a lifetime! My day started with an early wakeup call and straight to a parking garage and then to athlete registration. We couldn't warm up till bout 3pm so I was stuck skating around downtown Cleveland and running into some cool people that I've met in my past travels. It was then back to the athlete lounge to score the free lunch then out to the street course. Normally on the Dew tour stops they have a bmx course and a skate course, this time it was mixed. It still made for some great skating and some good lines. After skating 2 hours on the course in the blistering humidity it was time for heat 1 of the comp. The fellas through down some serious dope sh*t. I was 4th in line and had a 45 second run. My first run I stuck everything to my surprise. People seemed to appreciate my old school stuff. If there is one thing I've learned from comps its do what you know and do what you can land. My second run in the 2nd heat was so so. Had I had a bad first run I would of been bummed but I was happy with round one, they drop your lower run. They are only choosing 7 skaters out of the 27 that competed today and I doubt I'll make it into tomorrows heats. I was glad to skate with some of my homies and spend the day riding. I even scored an interview with ABC Sports to end my day out. Might rain tomorrow so not sure whats ahead, till then. DAY2: Today started to early, I did an interview with my hometown paper about me at the event then joined up with some kids from my local town to session a bit and we all headed to the games. I didn't make the finals so today will be a chill day. I was happy to make it to heat 2 and got further than I thought so I was content with that. It was just great to skate the killer course ad ride with some of todays top pros. It was cool to watch the vert warm-ups and walk around checkin out the village festival. Ran into lots of people who seem to know me from this demo or that. Mid way through the day it poured down heavy ran and my vip pass into the athlete lounge paid off.. stayed dry, got my buddies in so they could stay dry. After clearing the crowds left and the event was held off for the day. It was cool, we all did some flatland skating in downtown Cleveland where all the skaters were talkin and just havin a nice chilled time as the sun went down. I'm tried and worn down, till tomorrow. DAY3: Today was much more eventful than yesterday. On the way to the event my buddy Scot and his family all climbed into his mini van and we found Brunswick outdoor skatepark. Scot and I use to skate together in the late 80s. The gates for the games didn't open till 3 so we sessioned about an hour or so at the park. Today was filled much like yesterday with shaking hands and having short conversations with people who knew from this or that. It was great to connect with so many people. I'm super stoked to be involved in the Dew games this year.. even know while I'm writing this I'm checking my email and its pages of kids thanking me for signing their posters. Its awesome to see all these sports getting so much positive attention from the city of Cleveland. It was sentimental to be back because everything started for me there at the Gravity Games 02. The setup was almost the same as Gravity. With it nearing dark we headed out to the street and I treating Scot and his family to a horse driven carrage ride round downtown Cleveland. It was pretty cool. I felt like we were in a parade, especially when dudes would yell out "you Doug b whats up, yo Doug.. etc." So after that we actually drove back to the Brunswick park to finish the day out. Its lights out, special thanks to Scot, Dean, and Denise for keepin me company today. DAY4: With the skatepark finals finished, Ryan Sheckler of course took the prize two cities in a row, it was today that held the vert finals. I love to watch the vert dudes. This year the ramp was 100 feet wide and had two roll ins on each side. Shaun White took 1st. Bucky, Bob, and Andy Mac were my favs to watch. Lincoln Ueda was robbed and got last. After the event I scored some great food from the athletic lounge and checked out the Free Flow event on the street course. For those of you who don't know the free flow is the contest open for the am skaters in the surrounding area. There was loads of local talent and the future of the sport is a bright one for sure. Today was a bitter sweet day. It was the last day of the games and I survived the week. This was my first year involved in the Dew tour and it was an honor to skate the pro event. I had come a long way from Gravity Games 02 which was held in Cleveland where my professional career began. I couldn't help but get sentimental and look back at those times. All the demos and travels I've had since then. I saw a lot of smiling faces coming up to me and that to me was the biggest achievement. So if you saw me there and gave me a high five or a shout out, thank you. The next stop is Portland Oregon. I have a few demos in between, till then!

Monday, July 16, 2007 See you at the AST Dew Tour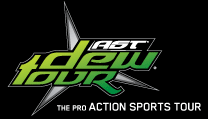 July 19-22 - North Coast Harbor
Cleveland, OH See ya there!

Saturday, July 07, 2007 From the road, Dew Games, Ollie Pop dvd...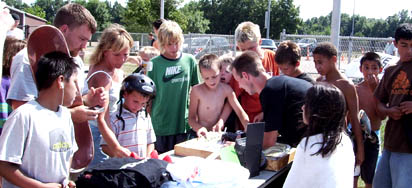 Its 11:49pm and I just got back from todays events. The past couple weeks have been a load of small demos in small towns across the states. Today I was in the town of Willard. Just two days ago I got an email from a kid wanting me to come to their event in Willard. I was heading back home on July 7th to visit my family for a get together anyway and Willard was about an hour away so it was on. Next thing I knew I was getting a call from the head of their parks and rec and a demo was set up in less than 24 hours. With no transportation I pulled some strings to get some wheels and filled up the van and away I went. Much to my surprise as I pulled into town there was a huge yellow sign stating that I was gonna be at the skatepark at 4pm for a meet and greet. This was a nice small community skatepark and I was more than happy to donate my time and skate with the kids. I brought a sound system, popped some banners up, talked with the local paper, and spent the whole day just chillin with the locals while skatin the park. Sometimes the smaller events are actually more fun than the huge ones. Things were more laid back and there was such a positive vibe and energy throughout the day. I felt welcome into their town. The rest of the summer is filled with more demos and most notable the Dew Games in Cleveland from July 19-22nd. Also be sure to check out the new Ollie Pop video featuring Danny Way and the rest of us on the Ollie Pop team. I scored some tricks in the vid and it can be downloaded at: http://schurkemediaarts.com/downloads/olliepop_video1.mov My new dvd Bliss of the Unwind is in skate shops now and can also be purchased at www.dougbrownskate.com The preview clip can be seen on YouTube or MySpace at:
http://myspacetv.com/index.cfm?fuseaction=vids.individual&videoid=10831956 SMF has released my new deck so grab one if ya can! Check out their new myspace at www.myspace.com/smfskateboards
Special thanks to everyone in Willard today, Jesse, JT, and Bryson. Its been a great summer so far. Its hard to believe it was a year ago I was on tour in Canada. More updates coming soon, until then skate on! Doug

Sunday, June 10, 2007 Bliss of the Unwind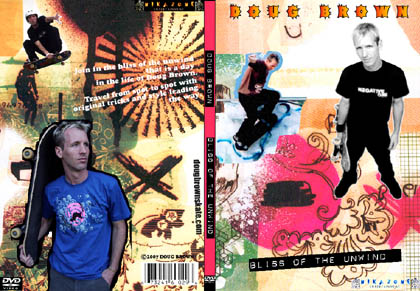 Its been sometime since I've done a journal entry. Let me tell you life has been a roller coaster of events. Lots of highs and lows have been filling up my days. I even survived a tornado a few days back. I lost three huge trees in my yard. Thank god I decided to park on the right side of my driveway other wise my van would be smashed. Although I did lose a window and a mirror. It was a pretty freaky sight. My newest project will surface this Friday June 15th. My new dvd is titled Bliss of the Unwind. Its footage from the past year, on the road, adventures, craziness and of course skateboarding... my way. You can get it directly through www.dougbrownskate.com or your local skateshop. I don't leave as many journal entries as I use to. All the demos/events the first year were so surreal I found myself running to the page to capture what I was going through. Now and days I've seen more airports and hotels than I ever thought I would in a lifetime. The skate life is fresh and getting involved in demos and events never gets old. I'm more chilled out now and days. During my downtime I've been finishing the dvd and skating anywhere and everywhere. SMF is releasing my new pro model to the world later next week. Its a great new cut and the graphic is as simple as can be. The decks are made by the same people who do Zoo York so the quality is top notch. Lots of gigs popping up this summer and I'll be making some appearances at some skate camps as well. Check dougbrownskate.com for updates. Thanks to all those who have been stading behind me throughout this crazy life of mine. More to report soon. Regards, Doug

Monday, April 02, 2007 5 parks in 3 days, life on the road...


It's 9am and I'm sitting outside my hotel room in sunny Paris Tennessee. The past few days on the road have been surreal. 5 parks in 3 days! Friday I sped up to the Cleveland airport to meet J. Mack. We've been doing demos together for the past few months. I met Mack years ago at a park called Area 57. To make a long story short we ran into each other at a skatepark and got to talking. He was down with touring and off we went. We boarded the Continental express jet and flew out to Nashville. We were greeted by Clark and the crew from 3rd Floor and Alex from Dirty Shirty. He rented a 15 person van and filled with us and we went directly to the concrete paradise that was Two Rivers skaterpark. We were tired but stoked. Took a bit to get the jet lag out but we were amped and skated our brains out. Before leave we scored an audience as I climbed up on top of the van and went for a finger flip acid drop to the floor. By the third attempt and people cheering "Mike V" I landed it and rolled away smiling. Still in Nashville going towards downtown we were lucky enough to go to the 6th Ave. skatepark. Super sweet indoor with a killer bowl and a 15 foot rollin to a 10 foot quarter pipe. I had been at this park a couple years ago while on the road with Yocaher and it was a blast I always wanted to get back to. After the crew and I downed two pizzas with pineapple we shot out on the highway 2 and half hours to the town of Paris Tennessee. Clark took us up to check out the 3rd floor park, its a great old school vibe wooden floor with quarter pipes, spines, and anything else that could be placed out was visible. It was round' midnight so it was back to the hotel and lights out. I have to hand it to Clark and his crew, they took wicked care of Mack and I, filling our fridge with loads of drinks and stocking us up with chips, pop tarts, and everything else they spread around the room. With little sleep day to arrived and by 10am the filled van was on its way to Paduka Kentucky bout and hour and a half away. Glen from Mission skatepark knew we were coming so the park was jammed and the locals were very welcoming to us. We filmed, we skated, we have a freakin blast at this place. The attitude was everything a skatepark should have. The kids weren't jaded at all, great mix of new and old school. We got lots of footy and skated full on. Driving back to Paris TN took a bit but we went back to our hotel to prepare for the demo madness. My body was sore but my brain was pumped with adrenaline ready to face the masses. I felt like Rocky entering and arena. Clark introduced me as I entered the shop with 250 kids cheering and greeting me with high fives and smiles. I signed a load of posters and kept thanking the kids for having me come to their park. It was special to be there, they were cool kids and treated me with repspect. I was taken back how many kids knew about me and my travels and who I rode for and everything. After the meet and greet Mac and I took the back elevator to the top floor which housed the huge skatepark. We both sped into the session and skated our brains out. The highlight for me was the demo when along the perimeter of the park the people lined up were cheering me on for my huge finger flip launch on the big spine. I went from one end of the park to the other which had the launch. So the cheers followed me and made all the difference in me landing this trick. After a few bails I landed it high and smooth. We continued skating throughout the event and the contest went well. Lots of talent in Nashville no doubt. Even the young kids were doing boneless tricks and we original in their styles and trick selection. This is something I don't often see on the road. Mack was in heaven as this was his first demo he's done that involved this kind of energy and life on the road. Before we left the kids were relentless having us sign everything from cell phones to sunglasses. It was crazy but I was flattered and hoped I delivered some inspiration and hope to the kids. A big group of the parks employees and friends all followed us back to the hotel for some after hours mayhem. Got to bed by 5am and could've used some more sleep. We got up round 9am, scored the free breakfast and packed up again for another plane ride. Clark's van came around the corner as we were sessioning and filming in the parking lot. Again we loaded up and drove 2 and half hours to another concrete paradise in Nashville by the airport. By this point I could barely walk and was struggling to find juice to get skating. Never the less we shreded till about 2pm then got back to the airport. Its been go go go and go so far on this journey. I'm getting dizzy from everything but one thought keeps coming back to me over and over. I just want to skate. When I skate I'm focusing on the feeling, not thoughts of stress or business.. just skating. I hope people pick that up with me, I'm really into just riding and enjoying good vibes and good people. I met a lot of great people on this Shut Up & Skate Tour so far and many more adventures to come. Thanks Mack for joinin me in this circus and Clark and everyone involved in Nashville. Lots more to report in the upcoming weeks. See you round' Doug

March 15th, 2007 Total Extreme Sports Show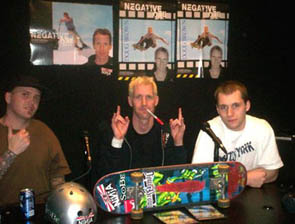 What a couple of weeks. On March 3rd the Extreme Sports Show went well with my buddy J Mack and Johnny Whitehead. It was 3 hours of talking about life and skateboarding and taking strange phone calls. Since Orlando its been non-stop travel. Last weekend was the first weekend I got to go home and chill, never happened. So I get the bright idea Friday to head out 4 hours away to Ollie Skatepark in Kentucky. After driving a couple of hours my van dies on the highway and I'm stranded. With good luck it speeds away and about an hour away I brake down again as the van slowly dies in the parking lot of a Red Roof Inn. While in the town of Blue Ash the cops are eager to help only when the cop got behind me to ease my dead van up the hill he dented the back of my van. This was only the beginning of this saga. I was stuck in a hotel for two days with the days filled skating the Red Roof Inn parking lot's curbs. The car was supposedly fixed Saturday so I went an hour north only to have it break down again, so here I am stuck in Columbus. My van is on tour right now jumping from car shop to car shop, its on stop #3. I scored a ride back home and I'm leaving tomorrow for the Ramp Shack demo. Its gonna be kick ass to get back on the road. Thanks to J Mack and company I'll be mobile.So the next four weeks I'm on the road. On the 23rd I will be skating Ollies in Kentucky with Fuel TV. I was there two years ago with Mike V and the SoBe love bus so it will be cool to get back. Fortunately the gigs comping up involve airplanes and not my van. From there it's on to Nashville for the 3rd Floor demo. I've got a few new companies I'm riding for including Dirty Shirty out of Atlanta www.dirtyshity.com I will be flying there sometime this month to do photos with their team, I'm stoked. So lots goin on and things are really picking up. I'm skating every second I can. I find myself constantly saying "God it feels good to skate" when I'm riding. I'm having a damn blast! I will be teaching at some skate camps this summer so stay tuned for details. I'll check back soon, thanks everyone for the emails and support. Peace, Doug B

February 18th, 2007 Orlando, car crash and filming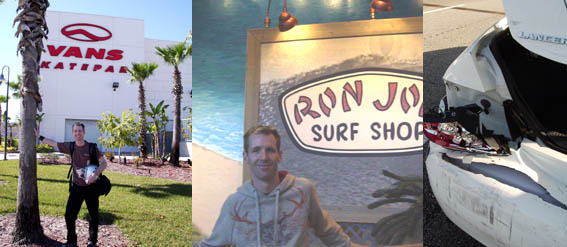 The adventures of me, never ending. I'm many miles above the ground flying on a plane leaving Orlando Florida. The last couple weeks have been a little too busy for my taste. It's been hotel to hotel and plane to plane, and a car wreck today in a rental car on my way to the airport. Missed my first flight. I've never had so many hurtles in my traveling. Days ago I was fighting an out of control snowstorm at 3:00 am to get to the Akron airport with delays, cancellations, and iced planes. My first stop was the Skatepark of Tavares in Florida. The park was all concrete and spacious. Scored a lot of footage and hung with the locals after the event. That evening I had the opportunity to visit my grandparents about fifteen minutes away. For those who have seen my dvd Solo its those grandparents in the vid. They spend their winters in Florida and it was great to see them. The are in their late 80s but are very active and holding together. We did dinner then had to speed off to a hotel thirty minutes away. This was a nice 5 star hotel and it was a nice change from the hotels I'm usually booked in. Vans skatepark was next and was an hour drive into Orlando the following day. This was by far the highlight of the tour. Its my favorite park in the world and I haven't been there in two years. The park is indoor, outdoor, wood, concrete, big stuff, small stuff, vert, street, everything!! The kids were great and it was good to see some familiar faces. The following day was a day off was spent at MGM Studios were I got to take the day playing tourist and sight seeing. From there it was a shuttle back to the hotel straight to bed for the 7:15am wake up call for the next day. My schedule has gone like this for well over a week and I look forward to getting home after a handful of more events. My career and life are at a strange point at this time. Its been over five years since the Gravity Games and my start as a pro skater. I don't jump on my journal as much as I use to. I look back to old journal entries and I would write with pages of excitement for every plane ride and road trip. Life is still great and I feel blessed to do this for a living just some days it gets to me. It's my audience, the kids, the communication with the people that has really enriched my life. I've gotten much better at skating and I've never lost focus that I'm skating for the right reasons and I truly enjoy the art that is skateboarding. I love to skate. I haven't let those who are misinformed or confused on who I am get me down. I've kept moving forward and become internally stronger as a result of always moving forward. I've recently signed with SMF Skateboards out of New York and have left my prior board sponsor. I'm now in a great position to reach more people with the right attitudes. I'll have a new pro model out this spring and I'm in the process of choosing a graphic. I'm more and more surrounding myself with positive people and positive vibes. Lots of SMF events to be announced including some stuff in Juice Magazine and an appearance on MTV's new show Scabs. The calander is packed and lots goin on. I truly thank those of you who are behind me and share my visions. After being in the car wreck this morning and waiting two hours on the highway for the police to show up I had time to think about where I am in my life. I got a pretty good jolt to my head and it freaked me out. I was thankful to be alive and had an overwhelming feeling of being alive. I'm living every second to the fullest. With my board in hand I will continue to make a difference in peoples lives anyway I can. I found myself through skateboarding and I wanna give back and help those who are facing adversity in this journey called life. Well its back on the road for me.. Till we meet again! Doug B





January 25th, 2007 ASR and updates
Hi everyone, Doug Brown checkin in. This is the weekend of ASR in San Diego. Life has been busy and its the season of changes. I have a new board sponsor that I will be announcing very soon.You will see my new pro model this spring. I'm riding for Mass Minority Clothing now. With my roots in Ohio I'm super stoked to report the AST Dew Tour will be in Cleveland this July. For those who don't know everything started for me as a result of the Gravity Games 02 in Cleveland. I'm really looking forward to going back. I'll be flying to the Orlando Skatepark in Florida on Feb.16th. Then on Feb.17th I will be doing a live on air interview on the Sports Talk Network from 4-6pm EST. The radio/webcast can be viewed live on www.sportstalknetwork.com, call in if you can! I'll be making an appearance at the Extreme Sports Expo for the 2nd year in a row, should be fun. On March 31st i'll be flying to Nashville Tennessee for a demo at the 3rd Floor Skatepark, check tour dates for details. I'll be traveling with some special guests so stay tuned. So much goin on. I'm doin it. I'm out there skating like crazy and getting to know thousands of skaters. I can't believe how many emails I get a day from skaters across the globe. Thanks for the support and know my head is on straight and i'm out there letting my skating do the talking. I keep trying to push myself and my creative limits. I still encourage everyone to make their own mark in skating and not become a follower. I'm being myself and its paid off. Ok enough preaching. For further updates check out www.dougbrownskate.com I'm filming for my next dvd now so if I see you guys out there on the road my filmers will get some shots of ya. The Softrucks team will be heading on a summer tour so i'll keep you posted on that. Thanks again for all those who came to the recent events. For those who understand what I'm all about and have supported me through the years I thank you. Doug Brown
-