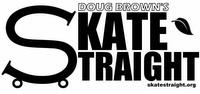 SPONSORSHIP MEDIA KIT 2009

WELCOME TO SKATE STRAIGHT
Professional Skateboarder Doug Brown brings you his special program. Doug will discuss his career, his travels, and the importance of staying clear of drugs and alcohol. The Skate Straight presentation is touring libraries, schools, detention centers and other functions. Doug's credits include the Gravity Games, AST Dew Tour, Fuel TV, ESPN, and much more.

MOTIVATION AND PURPOSE
"Why do I make the effort? On a personal level, it gives me a sense of purpose, to give back, be pro-active, help people think positively while leading a drug free life. As it turns out, people from all walks of life attend and are given the opportunity to share their stories of how drugs and alcohol have affected their lives. Everyone goes through tough times, and hearing how people have come through that can have a strong influence on impressionable teens. I'm all about humanity and compassion, and helping kids learn how to make better choices to firm up a strong future for themselves. I encourage people to find their passion and embrace their talents. If they can implement a drug free life, they will be able to achieve their dreams. The essence of Skate Straight is to motivate individuals to make good choices throughout their lives." Doug Brown



EXPOSURE AND BENIFITS
First and foremost by being a part of Skate Straight you will have a direct hand into making a difference in peoples lives. We are going into communities and reaching kids directly through schools, libraries, and countless other avenues. The message of hope, optimism, achieving dreams, and having a drug free life style are essential in improving our world. Our cause is a good one. The exposure you will receive in partnering with Skate Straight works on a local and global level.
300-500 Hits daily on the official website www.skatestraight.org.
Equaling approximately 12,000 web hits per month and 144,000 web hits a year
Prominent display of organization identity and/or logo on website
Company logo and web link will be added in all online newsletters reaching the 7,000+ member mailing list
Prominent display of organization identity and/or logo at all Skate Straight events,
contests, personal appearances, and in-store signings
Company logo added to brochures, banners, and other Skate Straight promotional material
Your company will reach the Action Sports community and their entire family members
Advertising for your company will take place at demos, contests, in-store signings,churches, auctions, and all Skate Straight events
You will be affiliated with an organization whose soul purpose is to influence, inspire, and promote
positive change in people and the community.

DEMOGRAPHICS/FAN BASE
Skate Straight has been presented to grade school students, junior high students, high school students,
youth groups, teen rehabs, churches, skateboard competitions, city events (kids day, etc), events with bands,
hospitals, and camps.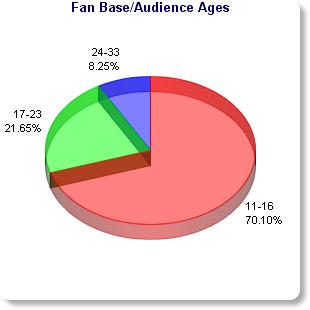 NOTE: All these kids have parents and siblings that attend events
and equal foot and web traffic to your company or orginization.

SIZE AND INFLUENCE OF ACTION SPORTS
The core skateboarding retail industry is at approximately $2.4 Billion dollars
Action Sports participation increased by 31% from 2003-2007
7-10 million skateboarders, 4 million aggressive in line skaters, 1 million freestyle bikers
85% of all skateboarders are under the age of 18.
1 out of every 10 teenagers owns or rides a skateboard
Primary users are between the ages of 12 and 16
During the last ten years, no sport had a larger increase in participation among users age 7 and older than skateboarding (a 106.3% increase)
Skateboarding is the third largest sport for participants between ages 6-18
Skateboarding is the sixth largest participant sport in the U.S.
In 2001 Female participation in skateboarding increased 23.7%

FEEDBACK
"I think he did an excellent job, he connected well with the young kids"
- Linda Uhler Wayne County Public Library Teen Advisor

"The kids enjoyed the show, definitely in the realm of inspirational"
-Timothy Wilkinson Ashland Parents Skaters Association

"Doug was approachable and has a personability to reach out and help"
- Annettte Kopp Strongsville Recreation

"The kids still talk about the event. Doug left a great impression on everyone"
- John Waller Teen Xtreme

"He's great with the kids, I just think he's great"
- Lisa Cartright Gravity House Skatepark

"A great role model. I can't say enough about him"
- Kathleen Hodges APSA

"Brown's energy and stories made for a great afternoon"
- Carol Reed Brunswick Library

SPONSORSHIP LEVELS
Corporate Level
Premium Sponsorship
Silver Sponsorship
Friends of Skate Straight Sponsorship
*Sponsorship contributions fully fund all aspects of Skate Straight from the producing of brochures, stickers, banners,
to maintaining the website and much much more. All for the righteous cause of making a difference.
Your generous sponsorship will increase your business traffic and sales all while continuing to benefit a worthy cause.

FACTS ABOUT DRUGS AND ALCOHOL
National Statistics:
More than five million high school students binge drink (consume five or more alcoholic drinks in one sitting) at least once a month.
Individuals who begin drinking before age 15 are four times more likely to become alcohol dependent than those who begin drinking at age 21.
The prevalence of lifetime alcohol abuse is greatest for those who begin drinking at age 14.
One-third of 6th and 9th graders obtain alcohol from their own homes.
Four out of every five (80%) students have consumed alcohol (more than a few sips) by the end of high school.
Eight young people die each day in alcohol-related crashes.
The United States has the highest rate of teen and young adult drug abuse in the world.

STATEMENT
"Places and people are what keep me going.
Influencing people in a positive manner means
more to me than any sponsorship, trick, or trophy.
It's connecting with the crowd that has made
this journey all worth while.
The essence of Skate Straight is to motivate individuals to make good
choices throughout their lives. Join us in our efforts."

Doug Brown
Profesional Skateboarder and Skate Straight Founder
CONTACT

Website: www.skatestraight.org
Email: hilarycalisports@yahoo.com
Phone: 330-347-3431
Mailing Address:
Skate Straight
Doug Brown
PO BOX 1654
Wooster, OH 44691
©2009 DOUG BROWN SKATE STRAIGHT - All rights reserved