September 28th 2013 - Heartwalk and Woosterfest
What a great productive day, started out with the Heartwalk with team Aultman. Some of the stories individuals shared at the beginning of the event were so sad and touching... today was for a great cause and I was so happy to partake in the efforts of the American Heart Association. Next it was onto Woosterfest to judge the talent competition. Was great to see so much talent and everyone enjoying themselves. From there I got some skateboarding in at the local park then some quality time with my brother's family and my father for dinner and of course the Ohio State Football game.
---------------------------------------------------------------------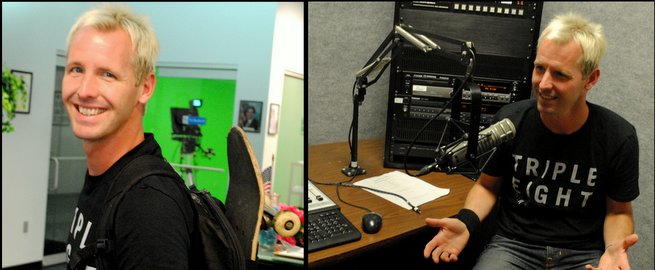 September 9th 2013 - Akron 1 Radio
Had a great busy day, Akron 1 radio interview went well, hanging with the band Cerebral. Calendar is filling up for the next couple months, it's been unreal. Thanks everyone for tuning in today. In October I will be presenting the best punk group award at the LMAs in Cleveland with Keepin' It Radio. Stay Tuned!


September 1st 2013 - Skate Strum & Speak 2013
Had a great time yesterday at Skate Strum & Speak, many thanks to all the skaters and Heed the Call for everything! Many smiling faces, talented skaters and positive vibes.Next couple months are busy busy. September 9th at 4pm I will be doing an on air interview with Akron 1 Radio at the Ohio Center for Broadcasting. I'll be speaking at lots of schools next couple months. I'm flying to Connecticut in October with Play it Again Sports, stay tuned!
------------------------------------------------------------------------



August 30th 2013 - Skate Strum & Speak 2013
The photo on the left was taken by my grandfather in July of 1986 on South Cherry Street in Mt. Gilead Ohio. The big white house in the photo is where I used to spend my summers with my grandparents. My mother grew up in that house. I started on an old antique scooter that I found in their basement. Shortly after this photo I began skateboarding and the rest is history. My grandparents have now past but every Labor Day weekend as a tradition I still visit the Morrow County Fair. This year I made sure to have a skate down old South Cherry street for my mom and grandparents. 27 years after that photo was taken I'm still riding strong. Click here to view the full photo.
------------------------------------------------------------------------



August 28th, 2013 - Nationally ranked soccer team uses my books as theme
Today I was invited to speak to a very special group of athletes. Coach Felton of the nationally ranked soccer team, the Lady Mustangs has used my books and philosophies for his team this year as a theme. "Capture the moment" is my motto they have been using. I was so moved that they knew my story and that I've been inspiring them for weeks without even knowing this till a few days ago. They were very receptive to my speech, I felt the reciprocation of energy and my purpose for being there. There were two simple chairs placed in a room for me and the coach, we were surrounded by the team, this was an intimate unplugged version of my program. It all felt very "Inside the actors studio with James Lipton." The intimacy and the topics tackled became a marriage of my life on and off the skateboard and their life on and off the field. Optimism, hope, believing in yourself and surviving adversity where at the forefront. In a couple months I will be joining the team on the bench as a guest for a pivotal game ahead. I'm beyond thankful and flattered by the events today. Many thanks to Coach Felton and the Lady Mustangs.
-------------------------------------------------------------------------



August 17th, 2013 - Blueberry Festival and Skate Competition
Today was awesome. The skate competition was heated with tons of talent. Was amazing to see how far some people traveled to go to this event. It was a full day of great skating and positive vibes. It was nice to meet so many new people and families. I'm always trying to give back and inspire, past couple days mission accomplished. After the skate comp I enjoyed the festivities, watched the sun go down as my crew and I enjoyed the band British Invasion. Popcorn and fireworks wrapped the night up perfectly. After the long drive and being sore I'm ready for a good nights rest. Thanks everyone for coming out and being a part of the festival and skate competition, Till next time! Doug
------------------------------------------------------------------------



August 16th, 2013 - Foundations for Living
Today I spoke to the teens at the Foundations for Living. This booking was a long time in the making but I was so thankful I was able to speak to these teens and instill some positive thoughts and hopefully plant some seeds of hope and optimism. I know what strings to pull, I'm not so far removed from these teens and I remember going through those pivotal years and the issues they face. Some of these kids have been in this facility for over a year. I assured them that going through these adverse times will make them stronger people in the future. After the event we headed to Kingwood Center to visit the gardens then onto my hotel gearing up for the skate competition in Lexington.
--------------------------------------------------------------------------



July 22nd, 2013 - Dog Skate and Updates
Two days ago I had a fun photo shoot for Outbreak Boards, we did a load of shots and upon leaving we see this couple, Tracy and Doreen walking their two dogs. As they are coming towards us they over hear us chatting how fun it would be to have the Dalmatian dog pull me... they were all about it. He was a dog trainer and she was a pet photographer, the stars were aligned ha. Skate events ahead in Chicago, Connecticut, Lexington, Ohio and Toronto Canada's Muskoka Woods Skate Camp all in August. My signature shoe will be out this September, I'll have more to report on that next time! Doug
-------------------------------------------------------------------------


July 10th, 2013 - The Learning Garden, turning 40!
Yesterday was amazing. I spoke to the kids attending the summer camp at the Learning Garden. Upon my arrival it was nothing but smiles and great vibes. These kids were so energized and assertive to my program. A connection was clearly made, all the questions they had, the comments, the sea of high-fives, the smiles. After my program they surprised me with a birthday cake and a wall of posters they made saying Happy Birthday with drawings and greetings. They all sang to me at the top of their little lungs and the look in their faces, I about shed a tear or two. The hearts of the kids and staff at the Learning Garden have made a place in my heart today. It was an event to remember and the best way I could spend my last day in my thirties.Today I turn 40, a happy young 40, but the big 4-0. Thanks everyone for all the birthday wishes! Happy to be alive and productive. Live on, skate on!
--------------------------------------------------------------------------



June 29th, 2013 - Cardington Heritage Festival
What a truly remarkable weekend in the town of Cardington and the Heritage Festival. I first did an event there in the summer of 2004 early on in my professional career. My parents were from the neighboring town just miles down the road from Cardington. Both sets of grandparents were in attendance in 2004 and got to see me skate, sign posters, and just be in my element. Now, almost ten years later my grandparents have past away yet I'm still skating the festival yearly, I'm still living my life to the fullest. I have so many stories from just the past couple days. People that came hours away to meet me, friendships that were developed between skaters because of me hosting this event. Getting to hang out with the 95.1 FM crew and judging the talent competition. Getting to meet a ten year old boy that before the competition was in physical therapy for six months and was unable of simply jumping up, and now after recovery was able to dance and replicate Michael Jackson's moves verbatim, essentially stealing the show with his performance. Meeting all these families, hearing feedback from a mother that told me in private how strongly I've inspired their son in such a positive way. These small stories show just a glimpse into why I do what I do. Thanks to all the skaters, spectators, friends, fans, and everyone with the Heritage Festival. Till next time!
-------------------------------------------------------------------------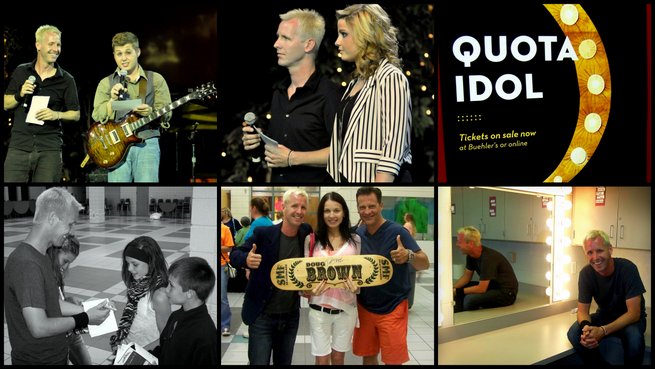 June 22nd, 2013 - Hosting Quota Idol 2013
I just got home from hosting the 2013 Quota Idol. What an amazing night! Tonight's show had a spark for sure, the energy was great. Congratulations to all the contestants that participated. And congrats to Curtis Roth for winning this years event! So many smiles and memories were created tonight. I was honored to be hosting Quota this year, many thanks!
--------------------------------------------------------------------------



June 21st, 2013 - Go Skate Day
Today I celebrated national Go Skateboarding Day in my hometown of Wooster Ohio where I started skateboarding back in 1986. It's become a tradition the last seven years to do the event with the local skateshop. There were kids that drove hours to be here. I enjoyed helping out with the days festivities, nothing but good vibes and skating, saw some old friends and made some new ones, a great day. Tomorrow I will be hosting the Quota Idol finale.
--------------------------------------------------------------------------



June 14th, 2013 - Recovery Rocks Fundraiser & Relay for Life
Today was a busy one! Today I spoke at the Recovery Rocks Fundraiser. It was great to meet a lot of new faces and support the Oasis Club's efforts. The Oasis Recovery Club's mission is to provide a safe alternative social environment for people in recovery. I even got to jam with the band. Directly after the event I hurried over to do my walk for the American Cancer Society's Relay for Life. I was walking in my mother's memory. The chilly night ended with the light down in the stadium and a glow of candles representing people who have passed from cancer or who are battling it. It was vert moving to hear my mother's name during the read through of those who have past from cancer. Tomorrow I will be hosting the first of two nights for Quota Idol at the Performing Arts Center. Click here to get your tickets here!
------------------------------------------------------------------------



June 9th, 2013 - Featured speaker at the Palace Theater high school commencement
What an amazing day, getting to be the featured speaker at the graduation commencement ceremony at the Palace Theater today was great. The students were very receptive and the connection was made, the feedback I received was very heart warming. It was a pleasure to be a part of this event. I never thought 21 years after I graduated high school that I would be standing in front of hundreds of grads sharing my life story and words of encouragement. Thankful.
-----------------------------------------------------------------------


May 24th, 2013 - Melrose Elementary
Had a great event at Melrose Elementary today in my hometown, the kids were so embracing and receptive to my program, hopefully I've reached them and planted inspiration and the power of making good choices. Things have been so busy, June will be a loaded month with events. I was on the front page of the Wooster Weekly this week, Click here to view. I will be hosting the 2013 International Quota Idol on June 15th & June 22nd at 6:30PM at the Performing Arts Center. Click here to get your tickets now!
---------------------------------------------------------------------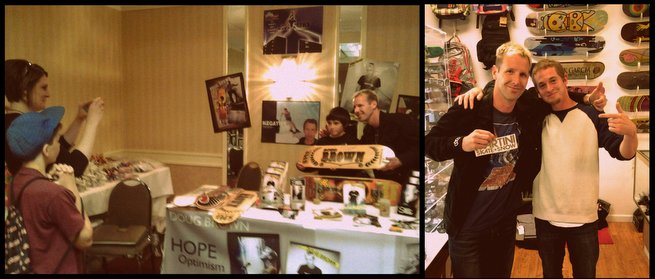 May 11th, 2013 - Oddmall Art Convention
Had a great event at the Oddmall Art Convention all day then visited Martini Skateshop then finished the night off visiting a special patient at the Medina Hospital. A great day, meeting so many great people. Always grateful.
----------------------------------------------------------------------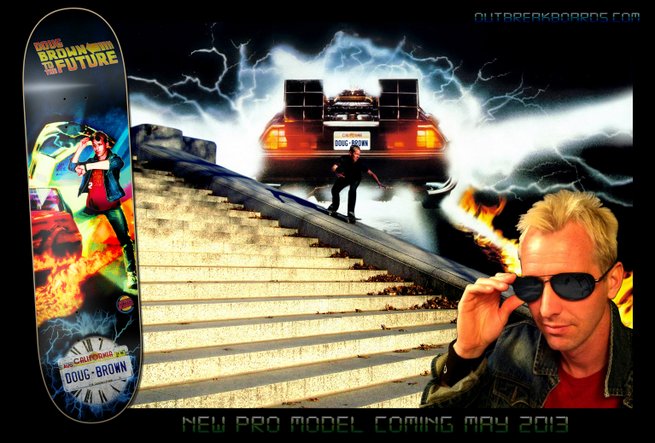 May 7th, 2013 - New Pro Model
Outbreak Skateboards brings you my 12th pro model, Doug Brown to the Future, designed by the talents of the Outbreak team and Matt Aloma and Tony Leard. The year was 1986 when I first saw Back to the Future, I saw Marty McFly soaring down Doc's driveway and my world opened up to skateboarding. Huey Lewis and the song Power of Love was blasting from the Lyric Twin Cinema's speakers and I was engulfed into the film. One of the greatest movies of all time. I even met Michael J. Fox a few years back to mark off a tab on my bucket list. Super stoked on this deck, it's been in the back of my mind for years and my faithful deck sponsor Outbreak Boards made it a reality. So, go back to the future with me and enjoy this new deck! Order here.
---------------------------------------------------------------------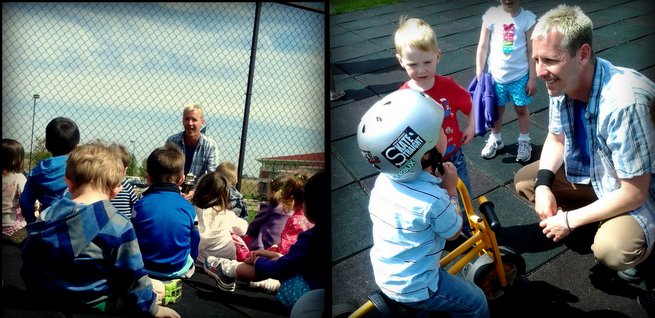 May 6th, 2013 - New Pro Model
What a great visit to the YMCA/Learning Academy. Upon arrival the kids ran up to the fence, "Hi Doug Brown!" and "Doug!" it was cute, they were very assertive and had so many questions and fun comments. They've been talking about helmet safety so it was good I brought mine and discussed the importance of using one. Thank you Wooster Weekly for coming out and doing a story on the event. I left to a sea of high-fives and smiles, mission accomplished. People are never too young or too old to be inspired.
---------------------------------------------------------------------



April 29th, 2013 - Imagine Romig School
What a great day, spoke to the wonderful students of Imagine Romig Rd. Community School. They were so full of energy and were very receptive to my program.
-----------------------------------------------------------------------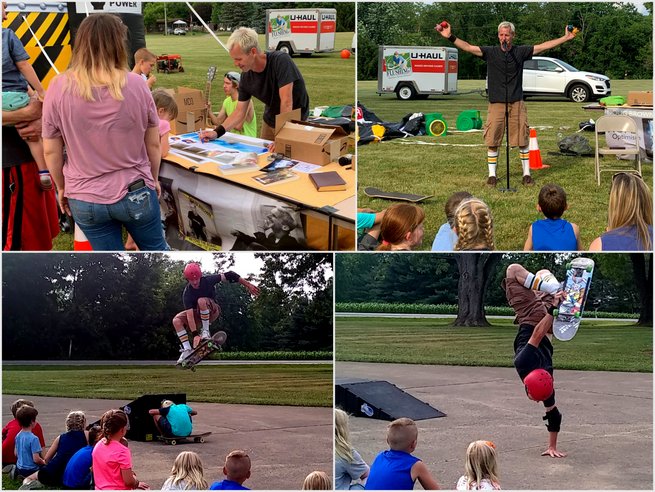 April 23rd, 2013 - Isham Elementary
Had a great great time speaking to Isham Elementary, putting my heart and soul into these visits like always. Another one in a few days.
------------------------------------------------------------------------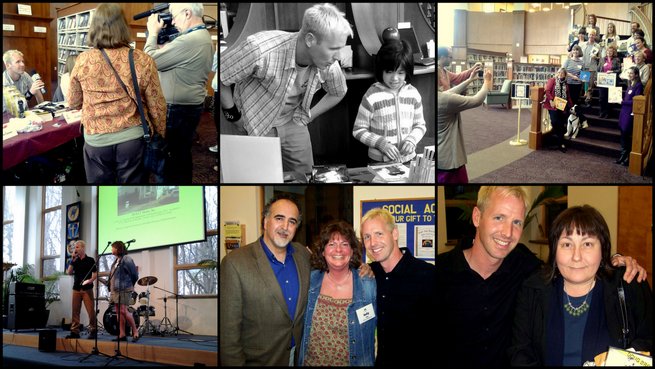 April 20th, 2013 - Hudson Book Fair and Holly House Fundraiser
What an amazing day of events! Reaching people, getting to meet so many remarkable people. Both events today were a blast, the book signing in Hudson and being the MC for the Holly House Fundraiser. A great day.
---------------------------------------------------------------------



April 16th, 2013 - Ronald McDonald House
What an amazing day at the Ronald McDonald House. I got to meet with several families, it was just great. Getting to bring a smile into their day was so rewarding. Some of the families didn't even speak English but that never stopped the smiles from flowing. The Ronald McDonald House is an awesome resource and they have huge hearts, was grateful to visit. Thank you Athletes for Hope for the nice write up. (Click here for info)
---------------------------------------------------------------------



April 14th, 2013 - Movie Casting
Had a great day, I've been doing a lot of auditions for movies and such the past couple weeks. Today was for Kevin Costner's new movie Draft Day. I will be on 19 Action News tonight at 10pm. Had an audition for a speaking role last week and another this week. This is all just for fun, I did grow up in the theater so this isn't a stretch for me. Meanwhile, this Tuesday I will be visiting the Ronald McDonald House with Athletes for Hope. I'll be speaking to the patients then speaking to all the families together as an event. Saturday I have two events, I will be doing a book signing at the Hudson Library & Historical Society Book Fair from 1-4pm (Click here for info) then directly to the Holly House Fundraiser where I will be the MC for the event from 5-9pm (Click here for info) Much more ahead, till then! Doug
---------------------------------------------------------------------



April 11th, 2013 - Wooster Township School
I had a great time at Wooster Township school today, they were an awesome receptive audience with plenty of energy and good questions. Many thanks to everyone from Wooster Township school. Next week I will be visiting the Ronald McDonald House with Athletes for Hope. I'll be speaking to the patients then speaking to all the families together as an event. They are excited, I'm excited, it will be a special event to reach out, always. I will be the MC for the Holly House Event next week, there will be live music, raffles, and so much more. It's for a great cause. Please come and show your support!
---------------------------------------------------------------------


April 6th, 2013 - Miles
Had an amazing day, Miles for Madison was a blast! I did a lot of running in place to stay with my crew but everyone made it to the finish line, all for Madison! I met Madison last November at the Akron Children's Hospital. This event was to raise awareness for Stevens Johnson Syndrome which is a rare serious disorder. She has been through so much and it was great to see her and her family in such high spirits on this day. So much ahead in the next few months! Stay tuned.
---------------------------------------------------------------------



March 20th, 2013 - Visiting the Classroom
Today was great, visiting Mrs. Shoup's class. So much great positive energy. One of the students a week ago did an essay on me, the mom emails me with thanks, then emails the teacher, then a week later I visit the school :) Was completely worth it. I'm confirmed to speak at another high school graduation commencement ceremony. So many exciting events ahead!
---------------------------------------------------------------------


March 18th, 2013 - Connecting with a fan and updates
Tonight was awesome, I was invited to meet a special fan for dinner with his friend and adviser. Dusty has Williams Syndrome, a genetic condition that causes developmental delays, and learning disabilities. He is 25 and has such a strong endearing spirit and individualism. He had been to one of my speaking events back in September and has been following my career. He had a slew of questions but I was really caught off guard on how complimentary he was with me. With complete sincerity he kept thanking me for the inspiration including that I had heart when sharing my life story. Dusty has a spark, a gift of being in the moment and enjoying all things. We talked about movies and he had a very large array of voice impressions he could do spot on. I haven't laughed that hard in a long time. Right when I got in the car Dusty spoke of how he saw me as a warrior and that in life we have to be warriors and stand up for ourselves and believe in ourselves. The night ended with the same dialog, he told me to keep on doing what I'm doing and reaching people. Dusty is a warrior and doesn't know it, I assured him he was the warrior. He deals with a lot, from bullies to kids that see him and say things. His life has been filled with struggles. But yet, he subscribes to optimism and has a shining soul. We are all battling something. We are all warriors in our lives and must tackle things with purpose and positiveness. He inspired me and I inspired him.I've been doing a lot of book events, check tour dates for more info. I acquired something today that is completely AWESOME. An original 1985 Valterra skateboard. I started skating back in 1986, after seeing Marty McFly skate down Doc's driveway I was hooked. That movie played a part in my skateboarding. Till next time, Doug
----------------------------------------------------------------------



March 6th, 2013 - Donations, Skatopia, Idol, Jim Tressel
Wow things have been busy. I've been donating a lot of items for auctions including West Hill Baptist Church's benefit to be held Saturday, March 9th, 2013 at the WHBC Family Life Center, in Ohio. I had so many people telling me I was in the movie Skatopia 88 Acres of Anarchy. Finally got to see it, grab a copy if you get the chance, support Brewce and his crew! I've been upgraded from judge to host for the 2013 International Quota Idol should be a great time, excited. I'll still be a judge on the last two nights at the Performing Arts Center. While being on the lecture circle I got to meet Jim Tressel and attend his event. I'm still writing a lot for my new book, so many things ahead. Check my facebook for the latest updates, Doug
----------------------------------------------------------------------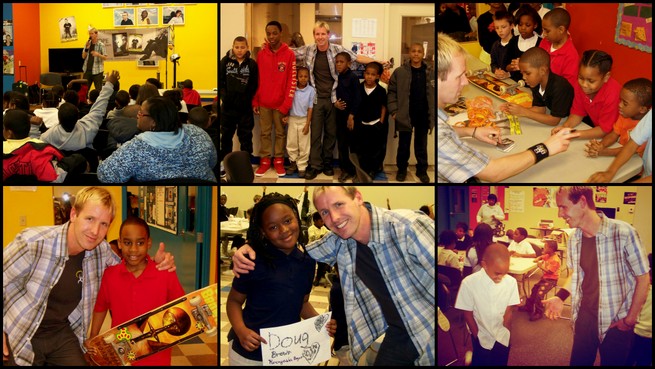 Janurary 22rd, 2013 - Boys and Girls Club of Western Reserve Akron
Today I got to visit and speak at the Boys & Girls Clubs of the Western Reserve in Akron with Athletes for Hope for the Martin Luther King service week. These are the type of events I live for. Skateboard events have their place in my life but my heart is in my philanthropy work. I got the opportunity to meet some truly special kids and hopefully left a positive impact on them. Mission completed for today. Till next time, Doug
----------------------------------------------------------------------



Janurary 21st, 2013 - Martin Luther King Day
Dr. Martin Luther King Jr, in the name of love. I love what he represents and his important achievements. I love that he has inspired and pumped optimism into the world. His teachings of nonviolence still ring to generations of people. I've studied his work, I have a healthy pile of books and documentaries that I own about his life, philosophies and extraordinary accomplishments. As a child I would play his speeches on my cassette player. Even at a tender age he left a lasting impression on me and the importance and weight of words. I've become a motivational speaker and I speak at schools, libraries, and more across the nation. My favorite MLK testimony I share with people are the three loves. Love yourself, love your friends and family, and love even your enemies. As important as all the anti-bullying programs are in schools we must not forget teaching equality, the history of civil rights and human rights. Dr. King's image should not be soften through the decades. I am the exact age Martin Luther King was when he died. His work is not finished, together we need to continue to move forward toward equal rights and to eliminate the evil of hate that still pollutes the population. In his words, "Life's most persistent and urgent question is: What are you doing for others?" U2's Bono sings, "Free at last they took your life but they could not take your pride, in the name of love, what more in the name of love."
----------------------------------------------------------------------



Janurary 16th , 2013 MLK Celebration Lecture
Tonight I got to participate in candlelight march at the College of Wooster that began at Lowry Center and then proceeded to Scheide Music Center. The event is to honor Dr.Martin Luther King Jr. on behalf of the 2013 MLK Celebration Planning Committee. It was great getting to hear and meet speaker/author Rinku Sen and her MLK Celebration Lecture.
---------------------------------------------------------------------
December 29th 2012 - Best of 2012

Happy New Year my friends, It's been an amazing year. Countless events with schools, libraries and a handful of visits to hospitals with Athletes for Hope. My latest book Looking Glass Self found itself on shelves in book chains mainly Barnes and Nobles throughout the nation. I had my 20 year class reunion. Outbreak Skateboards released my 11th pro model, the Medallion deck which to date is by far my favorite deck ever produced. So many highlights from visiting Paul Newman's Hole in the Wall Gang camp to being a judge for the Quota International. TV and radio appearances to having my Beyond the Board exhibit touring libraries... all in 2012. This is my 10th year as a pro skateboarder. My paying sponsors have been faithful and I continue to ride that skateboard to my fullest. I figured this ride would last maybe a couple years but with tenacity and staying productive I've always kept moving forward, if one door would shut another would open. My relationship with my skateboard is an important one but nothing is more important than reaching people in a meaningful way and creating positive relationships both professional and personal. Lots planned for 2013 so stay tuned. Thanks truly for the support throughout the years. Best regards, Doug.
---------------------------------------------------------------------
December 19th 2012 - Merry Christmas



Click here to view the 2012 Christmas video.
---------------------------------------------------------------------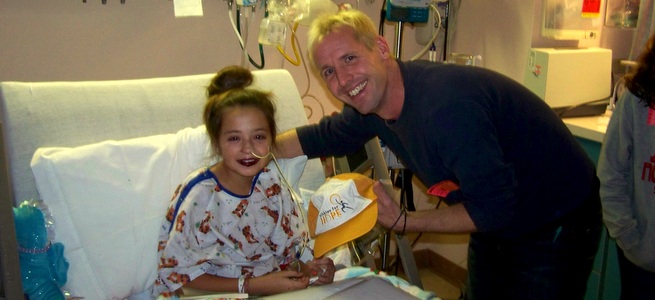 November 17th 2012 - Akron Children's Hospital
Today was a special day. For not going to medical school I sure have spent a lot of time over the years visiting people in hospitals. This afternoon I went to visit an eleven year old fan at Akron Children's Hospital. Upon entering the room her parents said it was the first time she had a full smile in over a week. Her illness wasn't discussed. I only brought words of encouragement and optimism. She reciprocated and thanked me over and over for my visit. I never forget for a moment that my life's journey has landed me in this room to help this little girl at this moment. Nothing I do in my career can carry more weight than reaching individuals like her. Bringing out that smile is the sole reason I do what I do.
----------------------------------------------------------------------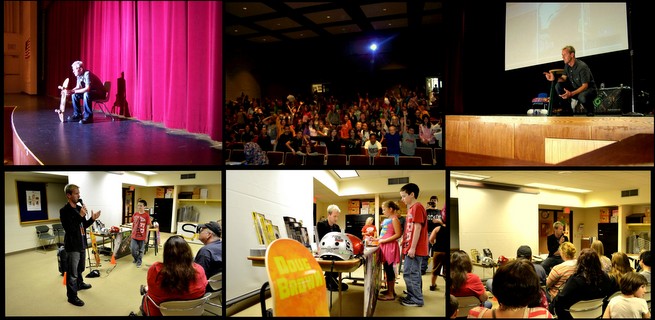 October 20th 2012 - Schools and Libraries
Last night's event had a spark. What great energy and an enthusiastic audience. My highschool counselor Cherlyl Welch was there in attendance. I haven't seen her since I graduated 20 years ago. She was instrumental in helping me throughout my highschool years, was a thrill to see her. I went to bed last night with a feeling of satisfaction from the event. I had a feeling of "I'm doing this, I'm out there reaching people and making a difference in people's lives." All the schools and libraries I've been speaking to this fall, it's been unreal. The emails, the feedback from parents, the look in the kids eyes when I can tell I've reached them. I still continue to skate everyday and do skate events but the power that microphone has in my hands far outweighs anything I can do on a skateboard. It was a joyous evening, many thanks to everyone that came to the event.
----------------------------------------------------------------------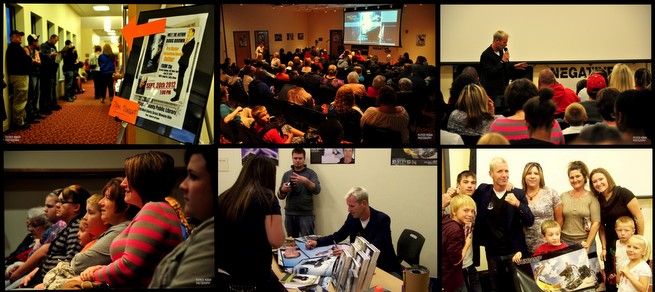 September 20th 2012 - Wayne County Public Library Hometown Pride
Truly an amazing night last evening. Thank you so much to all the people that came to the event at the Wooster Library. I couldn't think of a better place to celebrate my 10 years of being pro and with such a great group of people! The after party at Applebees topped it off. Special thanks to Brandon for the all the help and Patrick Hoban for all the photography for the event. Thanks again everyone.
-------------------------------------------------------------------



September 14th 2012 - Athletes For Hope, Boys and Girls Club, Front page Wooster Weekly
Today I visited the Boys and Girls club in Orrville Ohio as part of Athletes for Hope day of service week. I've been busy promoting my hometown visit event at the Wayne County Public library Thursday September 20th at 7pm. I'm excited to speak and see some familiar places. This week I graced the front cover of the Wooster Weekly. Click here to view article. I'm still skating all the time but as always my arena is to reach others and inspire. Click here to view new video. Lots of events this fall till then, Doug
--------------------------------------------------------------------